Mr Anthony Fok
Mr Anthony Fok graduated with Bachelors degrees in Accountancy and Economics. He received his postgraduate teaching diploma from National Institute of Education (NIE) and also earned a Masters in Education from Monash University. He is currently pursuing his PhD in Education specialising in Economics education.
We Have Confidence
in our ability to create a transcendent learning experience, one centered around the student's individual unique learning style and his/her needs, providing only the best support to them. We are backed by an inventive approach to teaching that works well for learners of various learning styles. Quality is never compromised at JC Economics Education Centre, where all lessons are taught by Mr Anthony Fok.
We Strive
to help our students in ways that their schools or independent learning cannot. Schools with fast paced lessons that students cannot keep up with and unguided independent learning will only reduce the efficacy of learning Economics. We provide your child with the attention and the guidance to keep him or her on the right track, making his/her journey in learning Economics a fruitful and enjoyable one.
Welcome to JC Economics Tuition
JC Economics Education Centre was set up in 2012 specializing in A Level Economics
It is conveniently located at three locations, Bishan, Bukit Timah and Tampines. Mr Anthony Fok is a firm believer in his students' capabilities and potential and is driven to guide each of them to achieve academic excellence. This is seen through his dedication in designing a comprehensive and seamless Economics tuition programme, from the learning resources provided in lessons to the extra guidance after classes.
Based on a deep understanding of the Cambridge 'A' level syllabus and examination requirements, Mr Anthony Fok is experienced in helping his students become adept learners and develop necessary skills for examinations.
If you would like to find out more about how our students have fared over the years, you can refer to the multitude of testimonials available on our website. Many of them have written heartfelt and touching testimonials for their beloved Economics tutor and their thanks keeps Mr Anthony Fok motivated to continue doing what he does best – making a difference.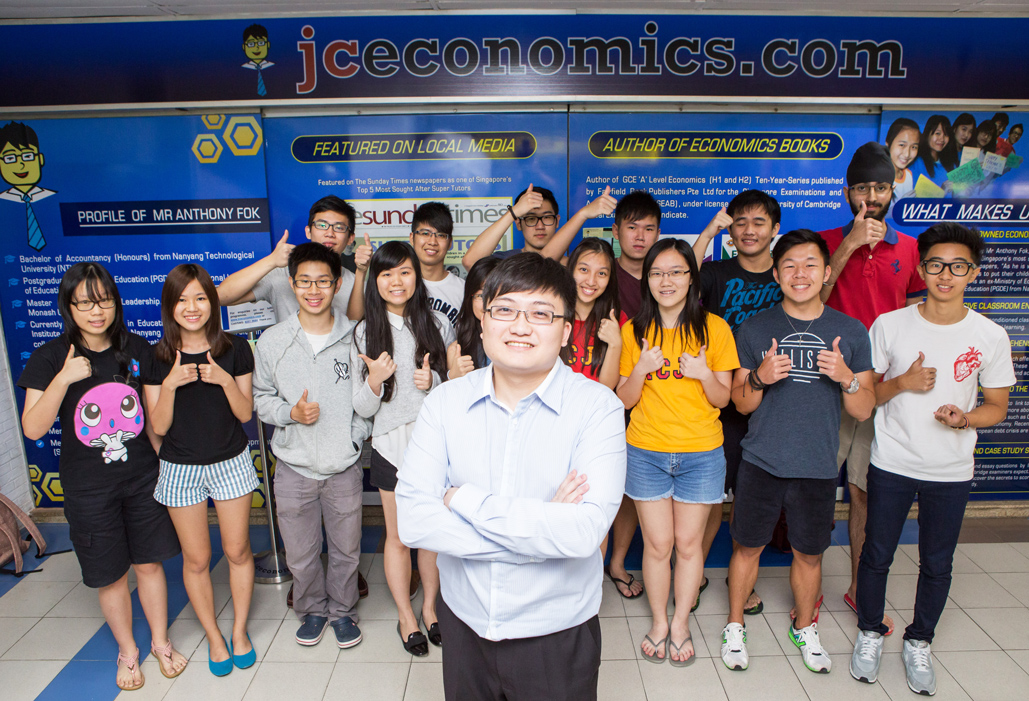 Round-The-Clock Assistance
Stumped while revising by yourself? Mr Anthony Fok is there for you via whatsapp and will provide you with immediate guidance. No more worries about only being able to ask questions during lesson time!
Marked Feedback
Would like to practice but fear that they are futile? Mr Fok will help you mark whatever work you attempted, from essays to case studies, whether they are from tuition, assessment books or from schools. Now you can do more practices and make them more productive!
After Class Consultation
Burning with questions? Some of you may be too shy to ask during lessons, but do not hesitate to ask Mr Fok one-on-one after lesson to clarify concepts!
Extra Resources
If you ask for it, Mr Fok will definitely provide you with a wealth of learning resources, from practices to summary notes in topics you find yourself weaker at.